Business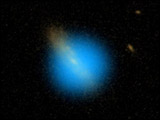 Very Soon God will use His business plan to renew the heavens and the earth for this old one is fast fading away.
We may look at picture above, and see it as beautiful thing but it is actually the death of a star, and then we may wonder at it's meaning and purpose.
And as I have said before there is a day coming when God's own city the heavenly Jerusalem will descend out of the heavens and come to rest on this renewed earth.
So none of that which we have seen before will ever remain of this earth as it is, for gone will be global warming and wars and destruction.
The new Jerusalem will have streets of gold, and have precious stones that abound where all can see them.
So peace will truly reign on earth as in Heaven. Money will have no meaning, nor politicians or economics.
"Do you want to be there?"
If you do let us know through here.